Bohol Earthquake Relief Goods Campaign
Last October 15, 2013 at 8:12 A.M, a 7.2 magnitude earthquake struck the Bohol and affected even the Cebu Province which is hundreds of kilometres away. 222 were reported dead, 8 were missing, and 976 people were injured. In all, nearly 69 thousand structures were damaged or destroyed. It was the deadliest earthquake in the Philippines in 23 years.
The Relief Operation
Dyan was our rallying cry, initiating the move for a relief operation within the soonest time possible. Everything from there on was a combined effort by everyone.
Tubigon Port
A frustrating scene at Pier 3 with Lite Jet notwithstanding, we arrived at the port of Tubigon safe and sound. It was then a 30 minute ride to our home for the weekend, the Gudes residence but not before Mai2 unfailingly referred to Dyan as Janine Guadez. Somehow her facepalm moments keep adding up. The trip was a scene straight out of what the newspapers and television stations reported. Devastation was everywhere, some just too hard to rationalize. Multitude of houses laid in ruin and some churches were even worse. Families camped out in open fields fearful of the onslaught of aftershocks.
We were determined to reach those in the far flung areas and on our list was Barangay Mabuhay. The distribution went without difficulty as we had the assistance of the barangay officials who prepared a list of their residents. Dyan and Mai2 handed out the goods while the rest of us were contented enough to watch from the sidelines. Our entire effort of grit and spirit was finally completed. We were happy, and so were the residents of Barangay Mabuhay.
Helping a Colleague
With the day about to end, we headed to Barangay Bugang to distribute the last of the goods. One of the affected was our collegaue from work, Gerissa, making the trip more personal for us. The quake tore right through the earth where their house stood, just short of swallowing it whole. The house though still standing was now leaning on a side. The opposite wall to it was now gone and you could see the interior of broken cement, mangled furniture and other debris strewn over. Nearby the surroundings, water which seeped from underneath and emitted fumes was now cooled down and solidified to black coarse sand. If there was anything that the catastrophe could't put down however, it would be their tenacity to assert their will to live throughout the entire calamity.
Dinner Feast
Finally done with our outreach we were in for a feast for dinner. Dyan promised us seafoods the week earlier and on seafoods did we feast. After filling ourselves to our satisfaction, those who couldn't hold it slept while those who didn't celebrated the night further with a treat from Nikko who was celebrating his birthday that day. We also picked up the Saridon tagline which left everyone on a last song syndrome mood.
Sunday, Day 2
Come morning, we were greeted by a sumptuous breakfast of more seafoods! Rain, Jepoy, Arn and Nikko left shortly while the rest of us geared up to visit the relatives of Lara who lived nearby. Lara reacquainted herself with the scenic playground of her youth while we enjoyed the brief trek which was highlighted with butong overload! On a personal note, I hail from Leyte where we have lots of coconut trees so it fascinates me when everyone in Cebu is all up and about for butong.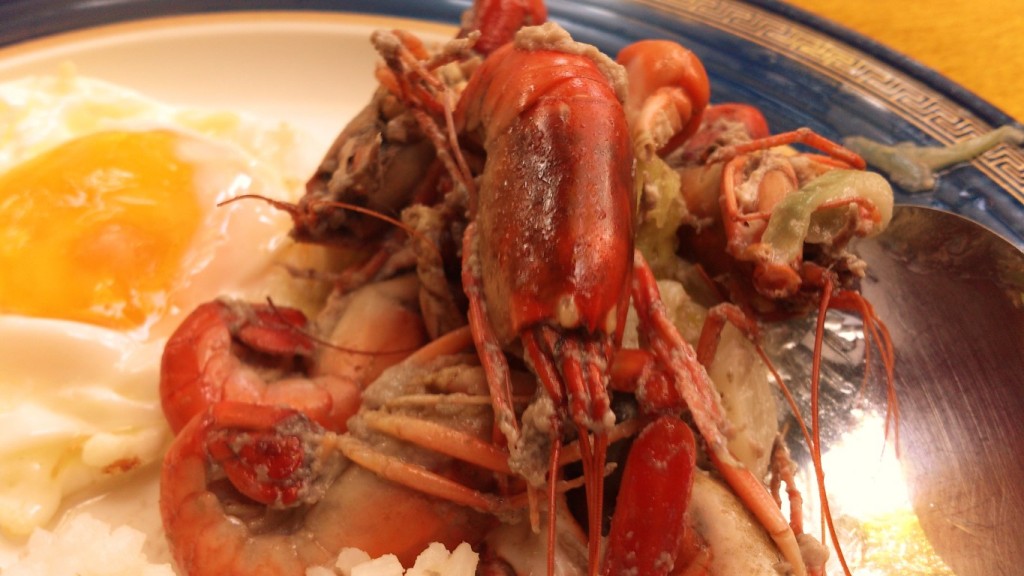 And just when we thought that we had the most sumptous dinner and breakfast of seafoods, we had even more seafoods for lunch! A full day of delicious seafood treat. I feel hungry writing this. We spent the rest of the afternoon with everyone busy idling over PVZ2 games and whatnot. The mobile internet slash hotspot of Princess was to our total convenience.
Plaza Tubigon & Cebu
By 4:00PM we prepared to breakcamp only to find out that 4:00PM something trip was already full and that we had 2 hours to kill. We spent that 2 hours at the Tubigon Plaza which I find to be rustic clean and orderly. I honestly slept through it while everyone was yet again, in PVZ2 mode and all. Ruby and Jedward spent the afternoon as new lovers would, cute couple as they are.
We arrived in Cebu in the early evening. What an eventful weekend it has been – one for the memories.